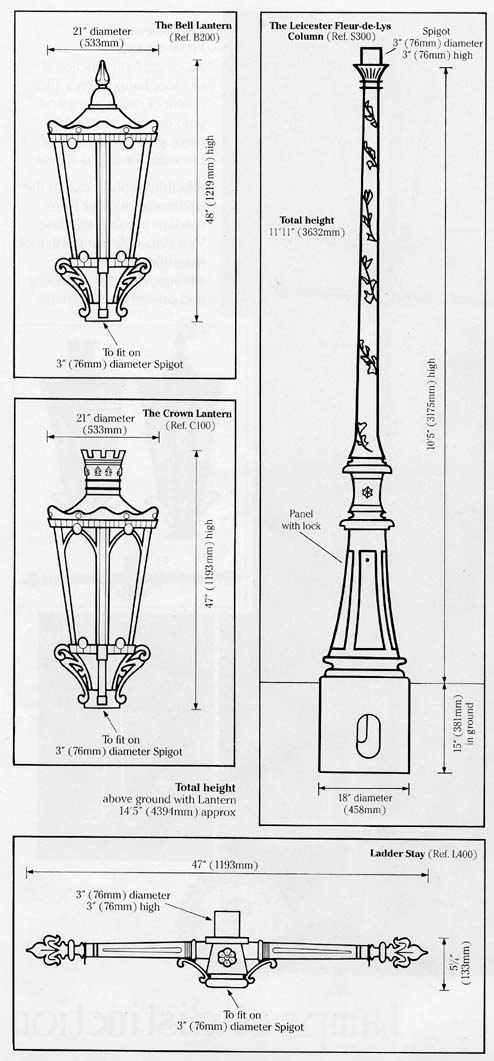 The Leicester Fleur-de-Lys Lamp Post with Crown or Bell Lantern, based on a French design of more than 100 years ago, is cast in modern, new moulds by skilled British craftsmen using centuries-old methods. It was last produced in Leicester, England some 50 years ago.
This elegant and very distinctive lamp offers effective and maintenance free outdoor lighting for many situations around public, commercial and private gardens, pathways and parking areas.

The Fleur-de-Lys design is the first of a new range of high quality ornamental, working lamps, each in an original and very individual style, as used by towns and cities throughout Britain in Victorian times.

The base of the column has a lockable panel, the ladder stay has two brass eyes on the stays capable of taking hanging baskets. Clear acrylic glazing is supplied as standard in the lanterns, column and lanterns are supplied in black primer as standard.

Installation is remarkably simple, all that is needed is 15" of the base to be sunk and concreted in the ground. Supplied with standard fitting B.C. Lampholder to take standard light bulbs, there is space in the lantern top for control gear for discharge lamps.

We recommend any electrical work to be carried out by a fully qualified electrician.